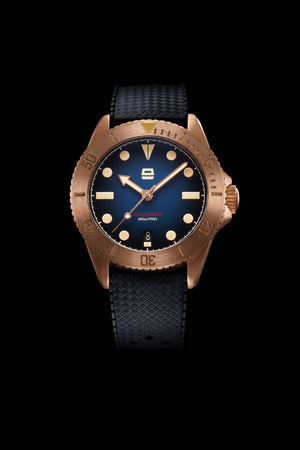 Maelstrom 300m Bronze Gradient Blue
Sale price Price $380.00 Regular price
Please expect shipments to go out in 2-3 weeks once you place your order
Introducing the Ergon Maelstrom - a 300m bronze diver with a reliable Swiss movement at its heart, converting kinetic energy into legibility. The antiquity concept of time is reflected by the old radium style lume coupled with a choice of three types of dials (black, blue and green). All of these are protected in a bronze case and topped off with a sapphire crystal. The former grows with you on your journeys as it develops a unique patina over time and the sapphire crystal ensures maximum protection against the forces of nature. 

A nostalgic reminiscence of the 1960s, the Ergon Maelstrom is a modern take on retro design cues with its rose gold hands and old radium lume. At 40mm wide, the watch strikes a balance between the fineness of yesteryears and monstrosities of the present. With patina developing over time, the already attractive bronze case gains an evolving, unique character. 

The watch derives its name from the 1841 short story titled "A Descent into the Maelstrom" by Edgar Allan Poe. It tells of a young survivor who aged rapidly after suffering the merciless torture of a whirlpool, and losing two brothers in the process. While every cloud has a silver lining, he too saw the beauty and wonder of the whirlpool (Maelstrom), an otherwise cruel tool of destruction. The Maelstrom was too, a beautiful creation by Mother Nature. The Ergon Maelstrom comes in 3 models, with only the black face version attached with a black ceramic bezel - depicting the sole surviving sibling. The protagonist is also a perfect personification of the material used - a modern bronze case design that patinas as it ages.

Let the Ergon Maelstrom capture your heart and take you by storm.
Specifications :
300m Water Resistance
40mm Diameter, 13mm Thick. 20mm Lug width
CUSN8 Bronze Case
Swiss Sellita SW-200 Automatic
Sapphire Domed Crystal with AR Coating
Screw down crown
120 click uni-directional bezel with bronze or ceramic insert
C3 Superluminova with Patina dye
Package : 
Canvas 4 slot Watch Roll
Tropic Rubber strap with Bronze buckle
Waxed 'Vintage' Horween Leather strap