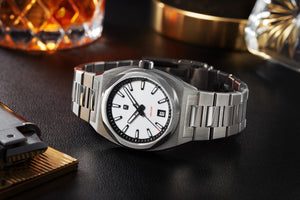 The Adventum
The Adventum; a rugged yet slender timepiece built for your daily adventures. The integrated bracelet plays with light beautifully with contrasting brushed and polished surfaces.
The collection features 3 different coloured dials - a black dial with gold lined markers signifying the start of an ascent under a star-studded night sky; a teal dial signifying the turn of dusk where the purpose of the journey starts becoming clearer to the adventurer; a white dial signifying achievement and the reward being a view of snow-capped mountain peaks.
The Adventum is also water resistant (up to 100m) and made from sturdy 316 steel for that extra ruggedness every adventurer needs. Built with wearability in mind, the case measures a slim 10.5mm in thickness. Quick release springbars also allow for a quick swap to a strap if you prefer.
Shop Now